Retirement Dinner for Two NRP Canines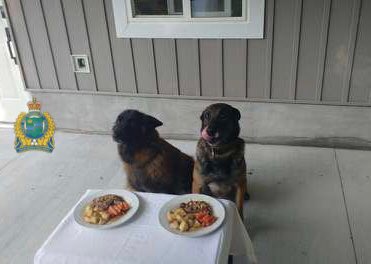 Photo Credit: Maggie Devine Twitter page, @SgtDevineNRP
June 27, 2019
By: Marcie Culbert
They're retiring from the Niagara Regional Police Canine Unit, after more than 100 apprehensions.
K9's Kali and K celebrated their retirement with a delicious dinner of steak and braised potatoes. Sergeant Maggie Devine posted a picture on her Twitter page.
They officially retired one week after Jax and Maverick graduated their training. They will fight crime alongside their handlers; Constable Kris van Riel and Constable Kyle Wegelin.