Donation of 16 New Microwaves to St. Patrick's Roman Catholic Church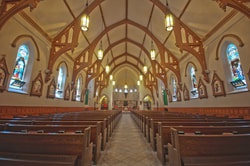 March 2nd, 2019
By: Tristen Randall
16 new microwaves were donated to the St. Patrick's Roman Catholic Church's Parish St. Vincent de Paul.
The church is thanking the United Steel Workers Union for the generous donation. The appliances will go to the homeless adults and children who are living in local motel rooms and are unable to hear their food.
The parish has collected 24 microwaves in total via donations.