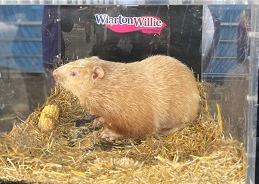 Photo Credit: Town of South Bruce Peninsula
Punxatawney Phil and Shubenacadie Sam predict six more weeks of winter
It could be an early spring this year, depending on which groundhog you follow.
Wiarton Willie is predicting an early spring after he didn't see his shadow this morning.
However, Shubenacadie Sam, Nova Scotia's most famous groundhg, did see her shadow, as did Punxatawney Phill in Pennsylvania.
According to tradition, if a groundhog sees it shadow on February 2nd, winter will last another six weeks.