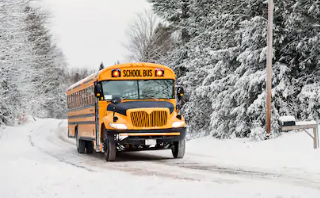 NSTS making the call
Niagara Student Transportation Services tweeting out moments ago, "Student transportation is cancelled – schools are open. This is for both the District School Board of Niagara and the Niagara Catholic District School Board."
NSTS citing unplowed sidewalks making it unsafe for children to wait for the bus.
The DSBN adding "Student transportation is cancelled due to so many bus stops inaccessible within neighbourhoods."
Today marks the first day back to in-class learning for students since the holiday break.
The DSBN and Niagara Catholic reminding parents there are a few changes.
Students in Kindergarten will have to wear a mask starting today.
Both boards says students will be offered 3-ply cloth masks, and teachers will help them get used to wearing one.
The board adding in the coming weeks, students will be provided with two more rapid antigen tests to use if they show symptoms.
Parents are also reminded it is important to complete a self screening for their child each and every day which now includes symptoms specific to the Omicron variant.