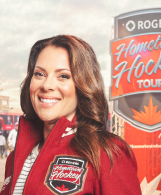 Photo Credit: Rogers Hometown Hockey Facebook
We spoke with Rogers Hometown Hockey host Tara Slone about this weekend's event in Grimsby.
Rogers Hometown Hockey is coming to Grimsby this weekend!
On Saturday and Sunday, hockey fans of all ages can head over to the Peach King Centre from 11:00 a.m. to 5:00 p.m. to check out entertainment, local vendors, and hockey themed activities, including an autograph signing with three-time Stanley Cup winner Mike Krushelnyski.
On Monday night a live broadcast of the Montreal Canadiens and Vancouver Canucks game will start at 6:30 at the Peach King Centre with hosts Ron MacLean and Tara Slone.
We spoke to Tara Slone, who says she's excited to be out on the road again after the pandemic forced the show to be put on hiatus.
"There's no way to tell the story of Canada and Canadians unless you have your feet on the ground. So I think for us, and for everybody who is able to come out and enjoy the festival and the broadcast, it signals an attempt to return to normalcy."
Slone also notes getting to highlight different communities across the country is a huge honour for her.
"It's such a privilege. I think it's opened all of our eyes in terms of the different cultures in the country, the different geographical landscape. Canada is a big diverse place, and we feel really lucky to have the platform that we do on Rogers Hometown Hockey to be able to showcase all of the differences and all of the similarities."
Tickets for the event can be booked here.
The full interview with Tara Slone can be heard below.