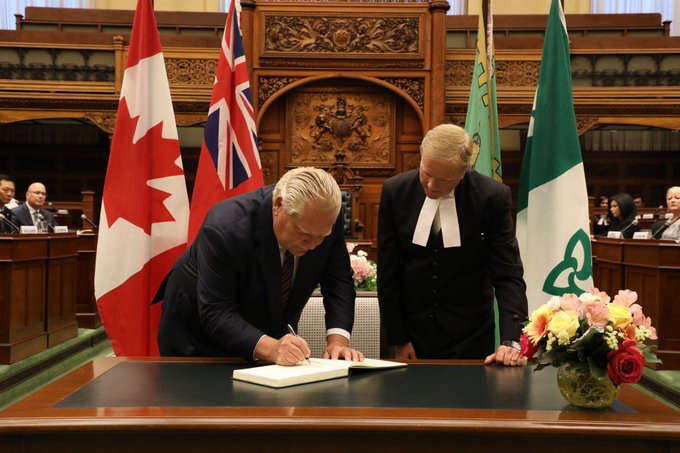 Photo Credit: Doug Ford Twitter page, @fordnation
Premier Doug Ford has decided to appoint Sylvia Jones as the next Deputy Premier and Minister of Health.
ONTARIO - Sylvia Jones will be the new Deputy Premier and Minister of Health for Ontario.
She's taking over for Christine Elliott, who decided to not run for re-election in her riding of Newmarket-Aurora. Michael Kernzer will be taking over Jones's former position as the Solicitor General for Ontario.
Premier Doug Ford is starting his second term as Premier with a Conservative majority government today.
His cabinet also includes his nephew Michael Ford, the PC MPP for the York-South Weston. He will be serving as the Minister of Citizenship and Multiculturalism.
The following Progressive Conservative party members will be staying put:
Attorney General - Doug Downey
Minister of Finance - Peter Bethlenfalvy
Minister of Economic Development - Vic Fedeli
Minister of Long-Term Care, Minister of Legislative Affairs and Government House Leader - Paul Calandra
Minister of Education - Stephen Lecce
Minister of Labour, Immigration, Training and Skills Development - Monte McNaughton
Minister of Transportation and Minister of Francophone Affairs - Caroline Mulroney
Minister of Municipal Affairs - Steve Clark
Minister of Colleges and Universities - Jill Dunlop