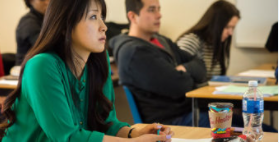 Photo Credit: Niagara College
Free business, health sciences and technology courses offered.
Niagara College is offering free courses designed to help newcomers improve language skills for the workplace.
Qualified newcomers can get occupation-specific language training in areas such as technology, business and health sciences.
The school is also offering the General Arts and Science - Enhanced Language Training for Employment program.
Both programs require an intermediate proficiency in English.
More information is available here.