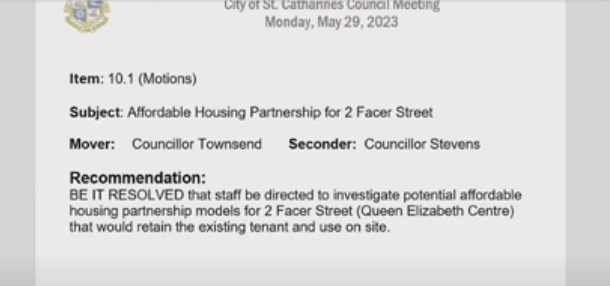 St. Catharines city council votes to further explore the idea
The City of St. Catharines is one step closer to putting affordable housing units in the Queen Elizabeth Centre.
Council voted last week to look further into the idea at 2 Facer Street.
Councillor Kevin Townsend brought forth the motion, adding the current tenant is on board and would stay. "It's very close proximity to Fairview Mall, transit, and it's in the great area of Facer Street."
Councillor Caleb Ratzlaff wanted to make sure this is done by more than just the one city staffer to looks after real estate, to ensure the best deal possible.
"We need to be strategic with how we do these types of real estate deals, and we need to think long term with how they happen, and a Municipal Corporation would make that happen faster and more efficiently, and we need to make sure we get the best deal," he says.
City staff indicated it would look into how long it would take to get a number of people exploring this.