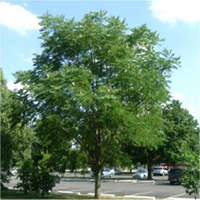 Photo Credit: City of St. Catharines
Starting Monday, St. Catharines residents can get a free tree or purchase rain barrels for their home.
St. Catharines residents can soon sign up to buy a rain barrel or receive a free tree for their property.
Starting at 8:00 a.m. on Monday, online orders are open for the City's annual Rain Barrel Sale and Free Tree Giveaway.
Trees are limited to one per household and can be picked up on May 28th at the Seymour-Hannah Sports and Entertainment Centre parking lot.
The City says this year, it will give away Pagoda Dogwood, Tamarack, Kentucky Coffee Tree and Freeman's Maple.
You can reserve a tree here.
As well, residents can purchase up to two rain barrels for their home.
Barrels are $55 each and must be picked up between 8:30 a.m. and 1:00 p.m. on May 28th.
Pre-registration is required for both events, as supplies are limited.
You can order a barrel here.