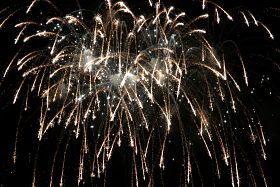 Lots to do in Niagara this holiday weekend
Looking for something to do this holiday weekend, well then head to the Virgil Stampede
The annual event runs May 21 to the 23rd at the Virgil Sports Park
The kids can ride the rides on the Midway, hop aboard a pony for a free ride, check out the Ben Show and watch amazing fireworks on Monday night starting at 9:30
The link to the complete events schedule is here:
https://virgilstampede.ca/plan-your-visit/schedule/

The Niagara Falls Fireworks series kicks off Friday night and will continue every night until October 10th, Thanksgiving weekend.
On its website, Niagara Falls Tourism boasts with 144 shows, there are "plenty of opportunities to enjoy the spectacular fireworks display with stunning views of the Falls."
The move has met with some resistance.
The head of PETA, People for the Ethical Treatment of Animals sending the tourism board a letter asking to consider the impact the noise from nightly fireworks will have on pets and wildlife.
PETA asking Niagara Falls Tourism to consider switching to a laser or drone light show instead.

The Lakeside Park Carousel opens for its 101st season on Saturday
The Port Dalhousie carousel will be open from 11:00 a.m. to 8:00 p.m. on weekends and holidays until July 1st.
After that, daily until September 5th.
Starting this weekend, GO Trains return for daily round trips between Niagara Falls and Toronto on Saturdays, Sundays and Holiday Mondays
Visitors can also take advantage of packages that include not just the GO Train but a WEGO bus pass as well.
For details log onto niagaraparks.com/go
Get your paddle on Welland.
Rec Rentals@The Docks is opening this long weekend.
Starting Saturday you can rent a kayak, paddle boat, or canoe to take out on Welland's recreational waterway.
Rentals will be available weekends only in May and June from 9 am to 7pm, with the last rental going out at 6 pm.
Rentals will be available on a daily basis in July and August.
Equipment is on a first come, first serve basis no reservations required.
And, Happy Rolphs is opening this weekend
And there will be some new editions to the St. Catharines park.
Several rescued animals will be calling Happy Rolphs home including horses, cows, chickens, turkeys, pigs, llamas, alpaca and even donkeys.
The park which is open daily from 10 to 8 also features a playground, pavilion and plenty of walking trails to explore.