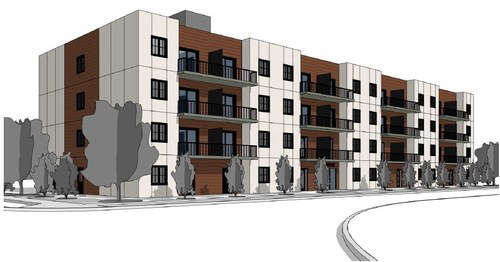 Photo of front of building. Image Credit: CNW Group/Government of Canada
The federal government is investing in a project that will create 42 new affordable homes in Welland.
The federal government has committed $10.5 million towards an affordable housing project in Welland.
Minister of Housing and Diversity Ahmed Hussen made the announcement today.
"Every Canadian deserves a safe and affordable place to call home. Today's funding through the Rapid Housing Initiative will go a long way to support those who need it most by quickly providing 42 new affordable homes for vulnerable individuals and families in the Niagara Region. This is just one of the many ways our National Housing Strategy continues to ensure no one is left behind."
The money will flow through the Cities Stream under the expanded Rapid Housing Initiative.
The funds will go to a new project located at 60 York Street in Welland, which will provide homes for Indigenous and Black Canadians, people with physical disabilities, women and children fleeing domestic violence, and those experiencing or at risk of homelessness.
Hussen says the project will create 42 new affordable homes.