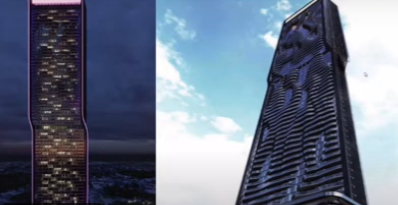 Council approves plan for new condominium dubbed "the tallest residential condo building in Canada"
The City of Niagara Falls has greenlit a massive condo building.
Council has approved amendments to its official plan and zoning bylaw to make way for what's being described as "the tallest residential condo building in Canada."
The 77 storey project will be built at the corner of Robinson Street and Allendale Avenue.
The project, which was proposed by Fudzi International Group, calls for 962 residential units and 516 square metres of commercial space.
During Tuesday's council meeting, city staff recommended council not support the development due to several issues, including the fact that the building is well above the 30 storey maximum for the area.
While council expressed concerns about wind, shadow, and the number of parking spaces, the development was approved with conditions.
The conditions include green initiatives, planting 50 more trees and a stormwater management plan.
The proposal calls for 713 parking spaces, which is less than one space per unit.
Rocky Vacca, the lawyer representing the client, says the developer has secured the right to lease land from Hydro One, which would result in an additional 300 spaces.
He also notes there will be charging stations for electric vehicles, bicycle and car-sharing spaces, and transit passes for people who own units.