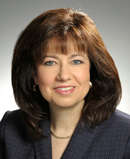 Photo Credit: auditor.on.ca
Ontario's auditor general is criticizing the province for its vaccine rollout.
Ontario's Auditor General says over a third of the province's COVID-19 vaccine doses were wasted between February and June.
Bonnie Lysyk says the Ontario government overestimated the demand for boosters.
Lysyk released her annual report today, which identified problems with the province's vaccine booking system.
She says with several hospitals, pharmacies and health units having their own booking system, in addition to the province's portal, people could book multiple appointments.
According to Lysyk, this led to over 200,000 no-shows, which likely contributed to vaccine wastage.
Lysyk also argues that family doctors were not sufficiently used during the vaccine rollout.
She says while physicians who worked at public health or hospital vaccination sites made between $170 and $220 an hour, family doctors were paid $13 per dose to administer shots in their own offices.
In addition, the report raises alarms about auto insurance premiums and environmental issues.
Lysyk notes average auto insurance premiums increased by 14 percent between 2017 and 2021, resulting in the highest premiums in the county.
The report also suggests there is no environmental monitoring of the Niagara Escarpment, due to a lack of staff.
The Niagara Escarpment Commission responded to the Auditor General's report with the following statement.
"We thank the Auditor General for this report and its recommendations. The findings of the report acknowledge the significant challenges faced by the Ministry, and by extension the Commission.
Though the Commission was created more than 40 years ago, we remain dedicated to maintaining and enhancing the Niagara Escarpment. Population growth, development pressure, and other economic realities in the area have made this an increasingly complex and challenging task. Recently the work of the Commission has been focused primarily on striking a balance between development, protection and the enjoyment of this important landform feature and the resources it supports.
The Commission works hand-in-hand with the Ministry of Natural Resources and Forestry to deliver the Niagara Escarpment Program effectively. The Commission will continue to collaborate with the Ministry to evaluate and establish appropriate levels of staffing and adequate financial resources. We will also continue to work with the Ministry to identify innov­ative approaches to program delivery, and to make improvements to regulations and legislation that will contribute to better protection of the Niagara Escarpment."