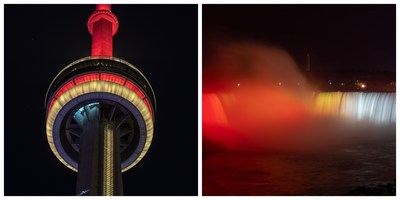 Annual event raises $5.7 million for Ronald McDonald House Charities and local children's charities.
Over $5.7 million was raised in support of McHappy Day yesterday.
The annual event, which is in its 28th year, raised money for Ronald McDonald House Charities (RMHC) and local children's charities across Canada.
A portion of all McDonalds food and beverage items sold supported the cause.
"The results from McHappy Day are amazing, and we're pleased to make a difference in the lives of wonderful families across our communities," said Alyssa Buetikofer, Chief Marketing Officer, McDonald's Restaurants of Canada Limited. "Thank you to our incredible guests, franchisees, restaurant teams, crew and supplier partners for participating in McHappy Day, and helping to make a truly meaningful impact for so many."
As well, both Niagara Falls and the CN Tower lit up in McDonald's iconic red and yellow colours.
Ronald McDonald House gives families a place to stay together when they have to travel for medical treatment for sick children.
You can continue to support RMHC year-round in the following ways:
Purchasing a piece from the limited-edition McDonald's Canada x Peace Collective collection of tees, sweatshirts and more, featuring iconic McDonaldland® characters. A portion of the proceeds from every sale supports RMHC and families with sick children across Canada. Visit Peace-Collective.com.
Purchasing Happy Meals and RMHC Cookies, as well as donating through coin box and kiosk donations.
Guests can 'Round up for RMHC' on any order at participating restaurants to support RMHC all year long.
Donating to a local Ronald McDonald House® or setting up a monthly donation any time here.