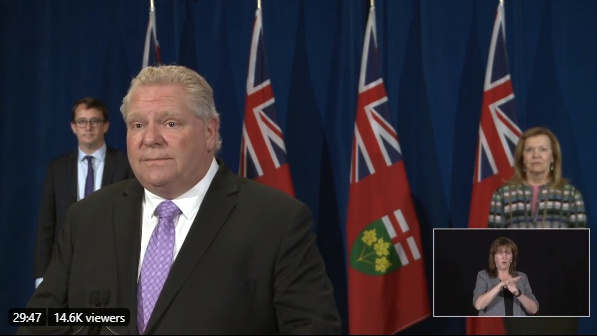 Photo Credit: Doug Ford Twitter page, @fordnation
Premier Doug Ford says many workers in Niagara and beyond have felt the impacts of COVID-19.
He says those in the tourism and hospitality sector are among the hardest hit, but help is on the way.
"Through the UNITE HERE Local 75 we're investing almost $2 million to create a virtual action centre to help impacted workers upgrade their skills as we gradually and safely re-open the economy."
The Ford Government is launching a new Ontario Tools Grant Program this summer, to help up to 11,600 apprentices get a head start on their skilled trades careers.
Ford says his government is also going to forgive over $10 million in loans from the Loans for Tools Program.
"This represents about $500 back in the pockets of 19,000 apprentices for new tools, equipment, clothing and manuals."
He says his government is building a strong economic foundation for Ontario's long-term economic recovery.