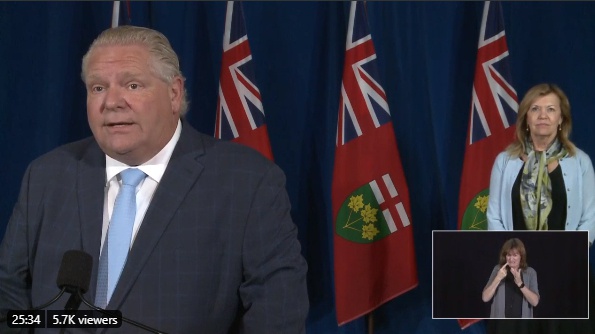 Photo Credit: Doug Ford Twitter page, @fordnation
Ontario's emergency orders have been extended until the end of June.
The state of emergency was first issued in March and Premier Doug Ford says we've come a long way since then.
"In three short months we have made tremendous progress and we're not going to stop. We have to keep going."
Ford highlighted multiple efforts during his press conference this afternoon.
He says hundreds of businesses retooled their operations to create medical supplies and equipment.
He adds we have been able to add 10,000 ventilators to our stockpile thanks to their help, along with 123 million masks, 4 million face shields, 173 surgical gloves and 21 million gowns.
Ford says his government also quickly developed a $200,000 social services relief fund to support food banks and shelters in Niagara and beyond.